Hey Y'all,
Happy Monday! So one of the most flattering messages I get on social media is "how can I get abs like yours?" It really does make my day every single time and not to be vain but it's because I work my tail off. So I wanted to bust through a few myths and get real with you all about my belief around what it really takes. Is that okay on this Monday morning?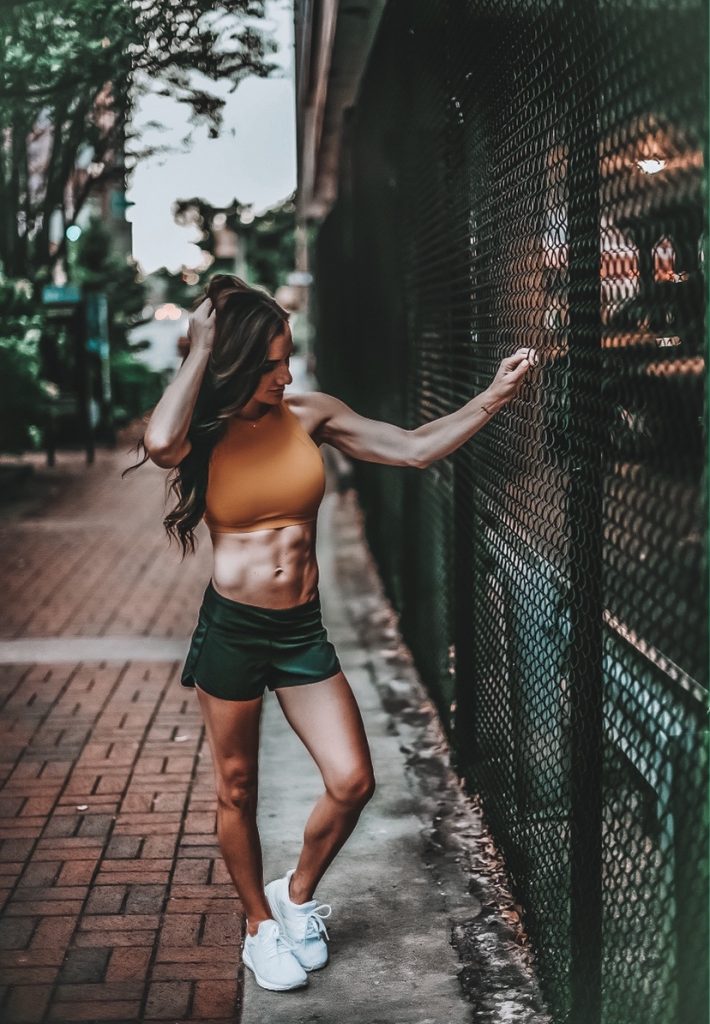 While for the most part I've always been pretty petite and muscular all my life (thanks mom for keeping me in sports). It's all about consistency. You're probably tired of me using that word but that is the truth. If you want something bad enough and it's worth it, it's probably going to be hard. It's probably going to take discipline, consistency, sacrifice and hard work. So for example I'm pretty disciplined in the kitchen. I stay away from starchy carbs 90% of the time. Do I eat pasta? sparingly. Do I eat sweets? At least once a week. Do I drink wine? OF COURSE I DO. But it's a balance and if I want the wine, I can't have the pasta or the sweets. Some people might call me too disciplined but candidly you have to be. I'm not saying you can't enjoy the foods or spirits you love, just have to with balance. If you want to get the results your looking for.
The same principle can be applied in so many areas of your life. In the gym. In your marriage or your career. I manage a team of incredibly talented sales people. Most are motivated by money, career advancement and recognition. The job is at times extremely demanding but also very rewarding. There are days where we all wake up not wanting to work as hard as the day before or maybe cut a corner but what the sad reality is that decision that day may not impact us that day but rather weeks/ months down the road. Due to the sheer fact our job is dependent on consistency. Crazy when you put it in perspective.
It reminds me of a quote I once read that said "You can't have a million dollar dream with minimum wage work ethic." – Stephen C Hogan. Isn't it funny to think of it like that? We all want this perfect body, successful job and a relationship but most of us look for the easiest route or path of least resistance to get there. Sadly there's no easy route in life, you must work for it and 100% of the time when you take the easy route or temporary fix to fill a void. You end up empty or back into the same or even worse position you started in. Most of the time the hardest roads, biggest trails in our life lead to the greatest victories.
So actionable items?
Come up with a plan. and stick to it.
Have smaller goals/ milestones to measure your progress.
Celebrate your success ( "treat yo self" )
If you fall down, relapse or get stuck.. GET UP and keep going.
Lastly, tell someone. Find a friend and share what you're working towards. (health, fitness, relationship, a heart break or career goal. ) Accountability is key.
What are some areas in your life that could use clear direction or better consistency?
Thanks for letting me preach, I'll get off my soap box now! Happy Monday babes!
Xoxo,
Lexie Myrick