Hey y'all!
Happy 4th of July weekend! It's hands down my favorite day of the summer. I love everything involved in celebrating America's birthday. BBQ, adult drinks, fireworks, pool time, friends and of course all the red, white and blue. But with all of this comes bloat. I hate being bloated and swollen. After this weekend, I need a system detox.
Let me start by saying, I am not a registered dietitian. I am not a nutritionist. I'm just a normal mom of two and 30 year old working woman sharing what works for me. Also let me add, I don't do these things everyday. While I might incorporate individual things daily but I promise I still indulge in wine, cheese and burgers when I have the craving. So now that I've given that side night, I wanted to share with y'all some of my tips to dealing with bloat.
I don't care how much you workout or how fit you are, we all battle bloat and gosh does it suck. Over time with some trial and error I've really learned what foods I love and eat from time to time that trigger bloat. If I over indulged over a weekend, a trip or even just around that time of the month I try to incorporate a few or all of these things to help combat the bloat.
DRINK UP BUTTERCUP. Detox tea, coffee and water with citrus. Nothing else. No alcohol. I would even be careful with "clean juices" due to some of them being so high in sugar. Stick to green if you do.
S W E A T. Yes girl, sweat it out. I'm not saying avoid the weights but in this 72 hour window stick with light lifting and high reputation or high intensity cardio. I'll even throw it out there, if you have access to steam room. STEAM it out baby!
STAY AWAY from foods that make you bloat or retain water. For example, legumes (sorry vegans, beans make you toot for a reason. And yes peanut butter falls into that as well.) dairy, sugar and processed carbs.
Ease up on protein. While this PAINS me to say this because just a few posts ago I'm talking about how important proteins is to your diet. But sometimes too much protein can cause bloat. So if you're trying to "debloat"
Limit the salt. Your kidneys act as natural filters by processing excess minerals and fluids from your body. Too much salt makes the sodium bind to water in your bloodstream, resulting in a blood volume increase, which causes pressure to build in the walls of your blood vessels. The accumulating sodium and water expand in the spaces between your blood cells. Eventually, the available space between cells diminishes, causing what appears as skin puffiness or bloating. Crazy right?
Side note: When I really need a system detox, I'll do all these things combined with healthy diet for 72 hours.

Do you have any things you do to battle bloat/ detox?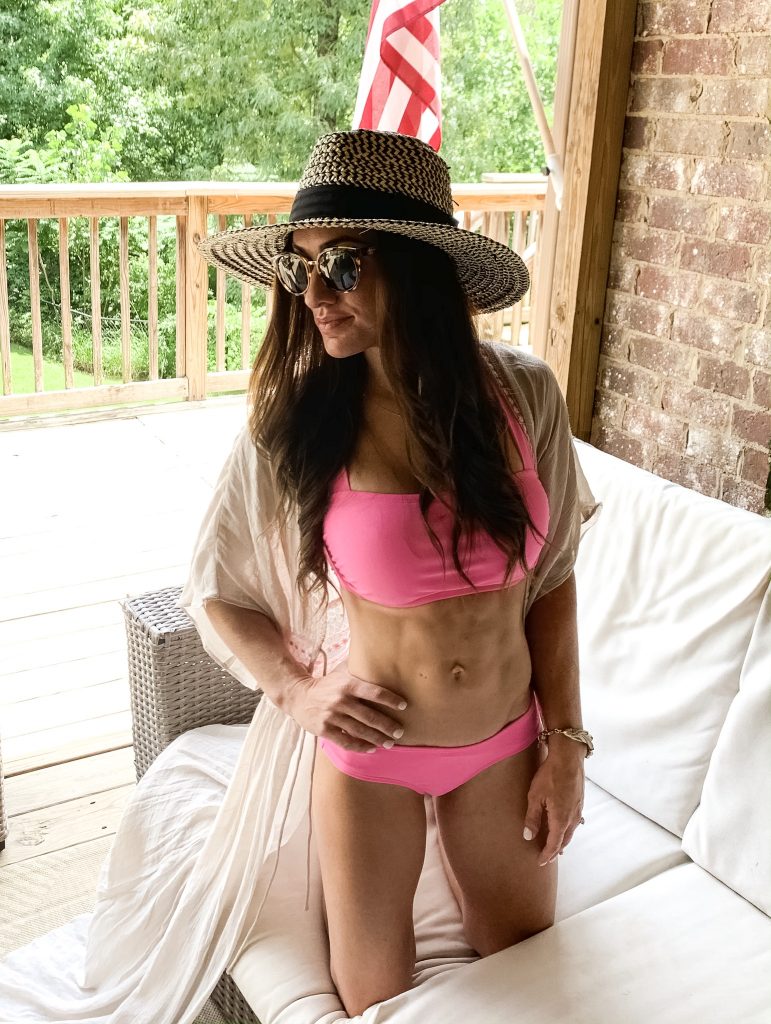 Swimmy
Hat
Cover up (similar, mine is sold out)
We are currently heading to the lake, so back to over indulging and too much sunshine!
Thanks for reading along!
Xoxo,
Lexie