Hey y'all,
Hope you had an amazing 4th of July weekend. I know we sure did it was full of sunshine, pool / lake days, good friends and good food. Now to the back half of the year. Isn't it crazy to think of it that way? 2019 is half way over. The first half flew by but based on all of the upcoming travel we have, football season and the holidays I know the back half will go by even faster. I've said it before but time really is a thief.
I wanted to share a few of my favorite skincare products I've been using consistently for a few months now (some new). Let me say this, I'm no skincare expert infact my skin has always been an insecurity of mine. I've struggled with combination skin, large pores, at times in my life hormonal and cystic acne. I've been on various treatment plans, birth control (shoot me now), some topical creams and then finally a round of accutane. So I share this to say, I've become sort of a product junkie. But I can confidently say my skin has never looked better than it does today. While it's not perfect (because let's be honest, it can ALWAYS get better), I can now not wear make up and feel confident.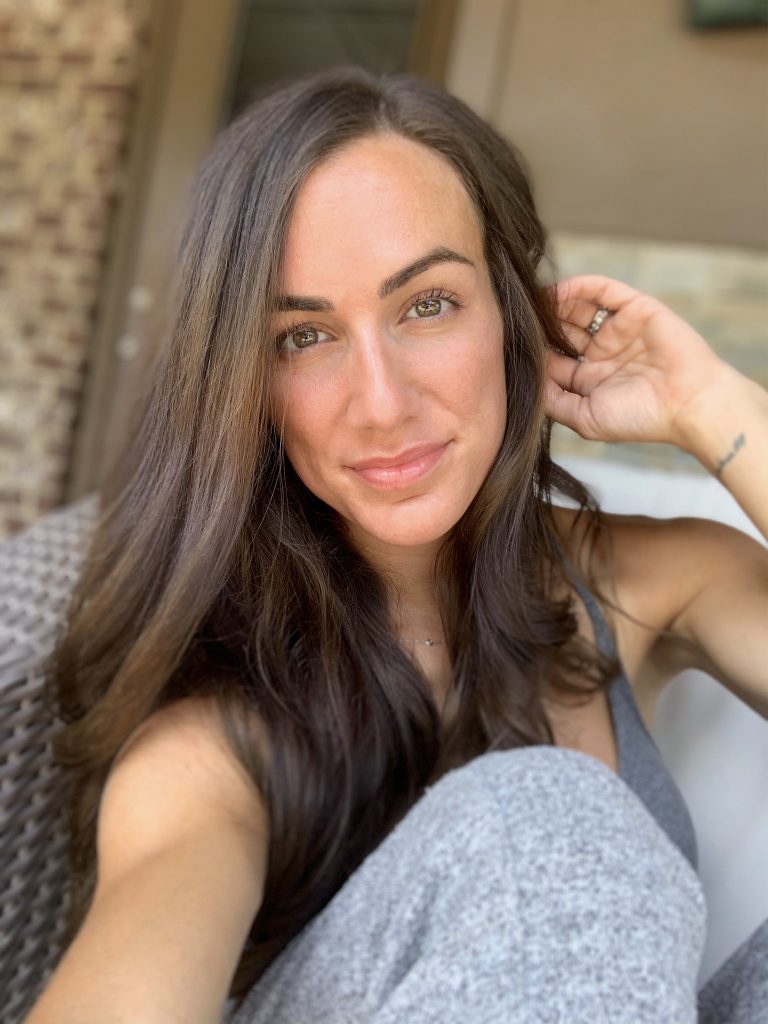 I never thought I would post an unedited, make up free picture of myself, but here I am. So I wanted to share a few of my favorites lately.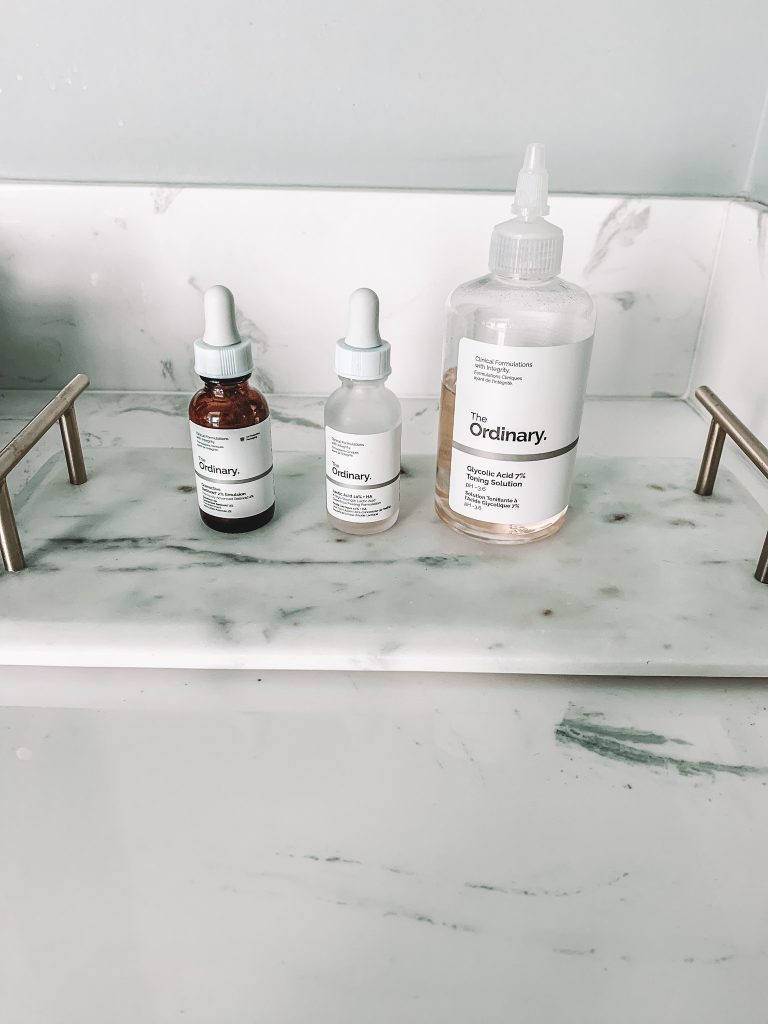 Okay let me start by saying I discovered this brand a few months back and I'm OBSESSED. It's all formulated without parabens, sulfates, phthalates and is vegan, cruelty-free, and formulated without oil, alcohol, silicone, nuts, gluten, and fragrance. Can I get an AMEN? oh and the best part, majority of the products are under $15. Yes you read that correctly!
Lactic Acid 10% + HA– If you have ever tried Sunday Riley- Good Genes, which used to be my HOLY GRAIL. This is made with the same key ingredients for a 10th of the price. helps with uneven skin tone, fine lines, wrinkles and dullness. I use this every morning after I wash my face. The best part it's under $7.
Glycolic Acid Toner – This toner has quickly become an MVP. It has seven percent glycolic acid, amino acids, aloe vera, ginseng, and tasmanian pepperberry. I use it at night once I get my make up off and cleanse my face. It helps with dullness and uneven texture. I find it helps prep my skin for my nightly serum. The best part it's under $9.
Granactive Retinoid* 2% Emulsion – as we all get older we all need a good retinoid serum to help fight signs of aging right? This one right here works wonders. I only use this 3-4 times a week. This one is under $10.
Lapis balancing oil – while this one is a bit more pricey, this is a consistent holy grail of mine. It's hydrating face oil to balance skin while improving visible redness, pores and blemishes. Honestly I have tried several oils from this brand and I like them all. This brand too uses natural ingredients. They are vegan, cruelty-free, non comedogenic, and formulated without silicone and gluten. I typically use this every night on my face and neck on top of my serum before I go to bed.
D-Bronzi™ Anti-Pollution Sunshine Drops – So with age, I don't tan my face what so ever. (only took me 30 years to figure this out) I load up with sunscreen or cover it with a hat. But with that, I have to even out the color so I don't look two toned. I love this serum for so many reasons, this serum immediately replenishes the delicate balance that supports a healthy barrier function of skin—like sunshine's bronze color, delivered without the damage. I usually mix with my primer while I'm getting ready.
Isle of Paradise Drops– I've posted about these SEVERAL times but these I NEVER run out of. You can pick your level of bronze. I mix 2-4 drops in my moisturizer in the morning a few days and a week and BAM, I look sun kissed. These drops also help with uneven skin tone, dullness and texture. It is cruelty-free, 100 percent vegan, organic, and made using certified organic ingredients, actives at low pH levels, non-sensitizing ingredients, hypoallergenic ingredients, and pure oils. It does not contain mineral oils, petrolatum, gluten, GMO, or toxins. They are currently sold out online but I usually have luck in-store with finding them!
The True Cream Aqua Bomb– I've posted about this several times but I keep going back for more for over a year now. I use this every morning before I put my make up on (after my serum and tan drop) It's perfect weight, isn't greasy and does the job!
Elta MD Tinted Sunscreen– I can't say enough amazing things about this sunscreen. I originally purchased at my dermatologist, it's hands down the best out there and doesn't clog my pores.
Again, I am no expert but definitely loving these products lately! What are some of your go to products?
Thanks for reading along!
Xoxo, Lexie