Happy Monday Y'all! It's here Amazon Prime day! I love a good deal, who doesn't? If you ask Dylan everything I get is "on sale". Any who wanted to share a few of my Amazon Prime Day picks.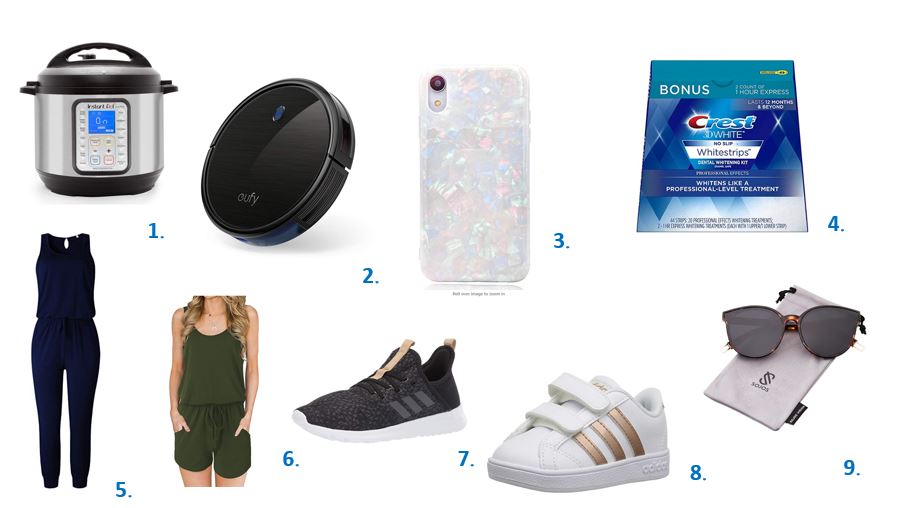 Instant Pot – I've been eyeing this for a few months now. Several of my family members and friends have one and I've had serious FOMO. (fear of missing out) I mean who doesn't want to cook rice in 5 minutes? Any who, it's 57% off and the cheapest on the internet right now. Go snag it!
Eufy BoostIQ – If you have talked to me about my house in the last three months, you've probably heard me talk about this thing. Two dogs, two kids, a husband who likes to get dirty and having company over regularly. Don't thing about it, this thing is LIFE changing and also eye opening how dirty we actually are. It's $80 off which makes this one heck of a deal.
iPhone Case – give me all the pretty and under $7.
Crest White Strips – These are my go to. I can throw it one while I get ready. I do it about every three weeks. Under $28 for 44 treatments. I usually pay more than that for half of the treatments! this is a GOOD deal!
Cotton Jumpsuit- THIS IS AMAZING! I'm currently wearing it as I type this. Under $25 and so comfortable.
(same link as 5.)
Adidas Cloud Foam Running Shoe– I have a true addiction to Adidas at the moment. These are under $55 and super cute.
Toddler Adidas Baseline – I have bought these twice for Sophie as her feet have grown! They are super cute and currently $23, can't beat that!
Trendy Round Sunglasses– These are super cute and super affordable.
Those are some of my favorites I've seen in the sale so far! If I see any others i'll add them. Here are few tips;
Don't have a Prime Membership yet? Amazon is offering a free 30 day trial! I promise it's worth it.
Deals will go on and off sale for the next 48 hours.
Hit BUY NOW, instead of adding to your cart if you really want it in case it sells out!
Happy Shopping! Xoxo, Lexie